MEDIA. Through innovative, reliable fertility care — a talented LIV team takes a responsible approach to help you reach your destination of parenthood.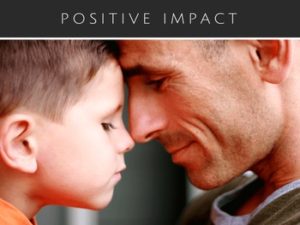 The LIV Fertility Center in Puerto Vallarta combines expert fertility specialists, innovative facilities, revolutionary IVF procedures, intelligent management structure, and sophisticated comfort.
LIV reimagines, refines and redefines each and every aspect of reproductive medicine.
Our fertility center in Puerto Vallarta is giving the world an imaginative new way to LIV. We are honored that numerous media outlets have recognized our progress and achievements in Puerto Vallarta.
Media
Good nutrition will improve you infertility treatment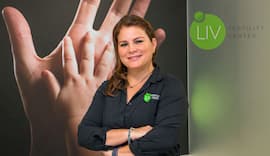 Diets high in unsaturated fats, whole grains, vegetables, and fish have been associated with improved fertility in both women and men.
In this piece, our manager and also nutritionist explains more about the importance of considering including a special diet during their infertility treatment to increase the probability of success in your results.
IVF-IN-MEXICO / Surviving infertility, anxiety, stress, and COVID-19 – august 2020

Support at this time is essential as plans for fertility treatments are more challenging this year. Having an outlet to share concerns is important. You may want to talk about your feelings with a partner or close friend but remember that they are also going through their trauma and anxiety.
(LIV Fertility Center Celebrates New Parents After 15 Year Struggle with Infertility — March 2019)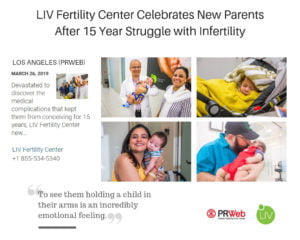 Devastated to discover the medical complications that kept them from conceiving for 15 years, LIV Fertility Center new parents, Iqbal and Kim, are now celebrating the birth of their baby boy after successful fertility treatment in Mexico.
But after all of those long years of medical difficulties and infertility, their story-book journey — was just beginning.
Read the Entire Story
(Press Release March 26, 2019)
(LIV Now ONLY Clinic to Offer MicroSort Mexico — December 2017)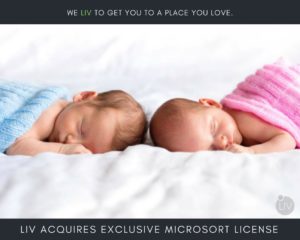 The leading fertility clinic in Mexico, LIV Fertility Center, is now the licensed clinic for MicroSort® Mexico.
"To become the only licensed laboratory to produce MicroSort® in Mexico, this was a progressive and rewarding step for us here at LIV," stated Tolga Umar, CEO and Founder of LIV Fertility Center.
(Press Release December 14, 2017)
(Book Dedication by Louise Joy Brown — July 2017)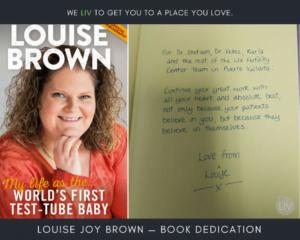 Louise Joy Brown became the first baby to be conceived through IVF on July 25, 1978 at 11:47 pm. Recently, Louise, gave a dedication to LIV Fertility Center in her book — Louise Brown: My Life As The World's First Test-Tube Baby. For those of us dedicated to Assisted Reproduction, it is a great privilege to have this book published for the world to read. Thank you Louise Joy Brown for your dedication, but above all changing the world with your miracle birth. Louise was born in District General Hospital in Manchester, England, to parents Lesley and Peter Brown. She was delivered shortly before midnight by caesarean section and weighed in at five pounds, 12 ounces. Today, Louise is raising her son Cameron —  who was conceived naturally.
(Honorary Guest — February 2017)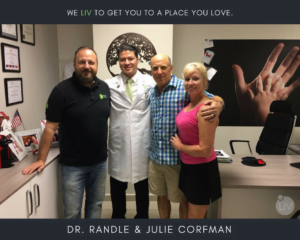 Dr. Stetson and the entire LIV team were honored to have Honorary Visitor and friends, Dr. Randle & Julie Corfman, visit our fertility clinic. Dr. Stetson and Dr. Randle come together with a shared mission to form a solid model of collaboration and partnership.
Dr. Corfman is the Founder and Medical Director of The Midwest Center for Reproductive Health, P.A. (MCRH) in Maple Grove, Minnesota. Dr. Corfman earned his B.A. from Kansas Wesleyan University and his Ph.D. in biochemistry from Kansas State University. After obtaining his M.D. from the University of Kansas, he completed a residency in obstetrics and gynecology at the University Of Kansas School Of Medicine in Wichita, Kansas and a fellowship in Reproductive Endocrinology and Infertility at Yale University. A recipient of the prestigious ACOG-Ortho Academic Training Award, Dr. Corfman has been able to combine his background as a research scientist with his medical background, to make him uniquely qualified and effective in the area of reproductive medicine.
As a pioneer in many aspects of reproductive endocrinology, infertility and assisted reproductive technologies, Dr. Corfman established the in vitro fertilization (IVF) and endoscopic gynecologic surgery programs at the Mayo Clinic in Rochester, Minnesota.
(Recognized Film Director Visits LIV — February 2017)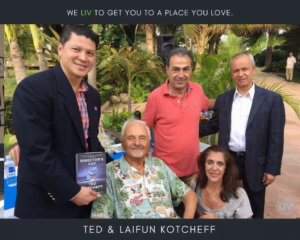 Film Director Ted Kotcheff and his wife, Laifun Chung Kotcheff, visited the LIV Fertility Center. The lovely and compassionate Beverly Hills couple stopped by the clinic for a meet and greet with the staff — after recently providing a 'Leadership Gift' to another couple to pursue their dreams of parenthood.

Thanks in-part to their generous financial donation, the couple is now expecting.
Mr. Kotcheff is a Bulgarian-Canadian film director and producer, known primarily for his work on several high-profile British and American television productions, such as Armchair Theatre and Law & Order: Special Victims Unit.  He has also directed numerous successful films including action films First Blood and Uncommon Valor.
(Magazine Release July 2015)
Dr. Horacio Vega Featured in Revista Magazine
 (Press Release January 8, 2015)
LIV Fertility Center Announces Opening of the First, State-of-the-Art Fertility Clinic in Puerto Vallarta
(Press Release January 21, 2015)
Leading IVF Center Opens in Puerto Vallarta, Mexico
(Press Release January 27, 2015)
Advanced Gender Selection Program Announced at LIV Fertility Center in Mexico
(Press Release January 29, 2015)
Elite Egg Donation Program Now Offered at LIV Fertility Center in Mexico
(Press Release March 19, 2015)
LIV Fertility Center in Mexico Helping Patients with New IVF-FET Guarantee
(Press Release June 30, 2015)
LIV Fertility Center Educating Women on the Critical Timing of Egg Freezing