ACCOMMODATE. Rest assured, we will go to any length to guarantee your happiness on the most important of days — your journey to parenthood.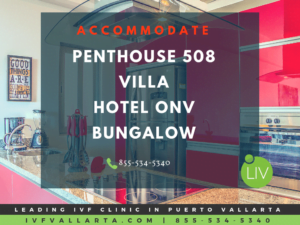 Most hotels simply provide you with a room. When you choose IVF in Mexico, the LIV Fertility Center provides you with an unforgettable experience. Our patients have the opportunity to stay for a discounted cost at the 5-star accommodations below.
We have hand-picked a portfolio of luxury accommodation options including LIV's very-own Penthouse 508.
Each of the properties in our portfolio have been designed to provide relaxation in luxurious surroundings within some of Puerto Vallarta's most famed places.

Click on the images below to learn more about each option: