"The technology you use impresses no one, The experiences you create with it, is everything."
You were not made to give up!
Intracytoplasmic Sperm injection, ICSI Mexico
AMAZING: The accomplishments of science and the advancements of fertility can only be summed up in one word; amazing. Within the astonishing walls of LIV Fertility Center, our Laboratory has performed thousands of ICSI Mexico Fertilization on the Eggs of our patients. This innovative fertilization technique has created a dramatic increase in our success rates and fertility rates. Led by our Laboratory Director, Emb. Karla Martin Del Campo, LIV has adopted a revolutionary technique which is ICSI Mexico. This and a lot of other adjustments has made LIV Fertility Center one of the most respected locations where the results speak for themselves.

When performing a fertility treatment at LIV, you can rest assured that you are getting one of the more modern procedures available. We spare no expense when it comes to the clinic equipment and machinery. To be able to perform an ICSI Fertilization, our team must be provided with the most up to date equipment and microscopes. Not only does the equipment need to be the newest and most innovative, but the team must be extremely trained and prepared to perform these new and improved techniques.

When you put the perfect team together with the perfect equipment, then you have a recipe for success. We can vouch for that combination.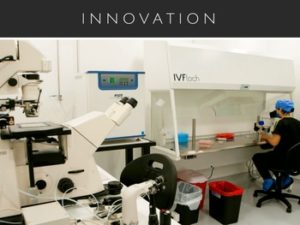 What is ICSI?
Intracytoplasmic Sperm Injection (ICSI) Mexico is a powerful Assisted Reproduction Technology (ART) technique of fertilizing Oocytes or Eggs. This technique has been implemented and being performed at LIV Fertility Center, since its inauguration. From the very first Embryo to the one created today, LIV has been performing ICSI Mexico to created healthy and strong Embryos for its patients. By individually selecting the spermatoid and injecting this directly into the Oocyte, we are eliminating the chance that a non-healthy spermatoid can have to fertilize the Eggs, when a pregnancy occurs. By identifying the healthiest of sperm cells, our Embryologist can increase the chances of a healthy Embryo by being more selective on the combination of sperm with egg.
The Future of ICSI Mexico – Unveiled
ICSI Mexico is mostly used when there is a male factor infertility issue such as low sperm count, low sperm quality, absence of sperm cells in the ejaculate, impaired sperm motility or abnormal sperm morphology. Another reason to use ICSI Mexico is when there is a TESA/TESE Sperm Aspiration performed to acquire sperm cells. If there is a Vasectomy or an obstruction that is causing male infertility, then ICSI Mexico will be contemplated for the IVF Mexico that is being performed.
More Benefits for Male Factor Infertility:
Creating ultra-guided binding of Sperm and Egg to create Embryos.
Advanced combat with Anti-Sperm antibodies (immunoglobulins produced by the immune system that identifies and attacks strange substances.)
Enabling cancer patients to freeze sperm cells before undergoing any cancer treatment – The available amount can be low of number and quality.
Cryopreserving of sperm cells before undergoing a Vasectomy.
Microsort and freezing a high-quality sperm sample to attempt Gender Selection.
Family planning is becoming the new normal for couples who have not accomplished their dreams yet and want to wait on becoming parents. Women are not the only ones who have started to freeze material at a younger age. Men have also taken this initiative and are starting to freeze sperm samples just in case the future does not turn out as planned. LIV can help prepare for this unknown future and make it to where your frozen material is still usable when the time comes. Procedures such as ICSI Mexico will allow for men to freeze sperm cells and not have to worry about the affects of the freezing and thawing.
Step by Step analysis:
Step 1: Decide
Overthinking can sometimes cause doubt when making a difficult decision. Once the decision has been made, you can now get the ball rolling and begin the process so please, stop wasting time, LIV needs you to dedicate this time to the preparations.
Step 2: Get in touch – Contact LIV
If you have questions or doubts about the process, allow one of our Journey Coordinators the opportunity to explain the situation and answer the questions that we know you have. You will see that following the phone call you will feel a sigh of relief and see why LIV is the best option for your future family.
You will get a personal medical phone call with one of LIV Doctors to evaluate the test results that you may already have. If you do not have any recent results, that is no problem, LIV Medical Team will provide a list of what is needed to identify the exact plan of action.
Step 3: Become an official LIV patient – Contact LIV
Once you have seen that this process and procedure is possible and have received the medical authorization from LIV Medical Team, we will ask you to become an official patient of LIV, this will allow us to provide medical indications and prescriptions that you will need for the procedure.
Step 4: Getting started – Contact LIV
Once you have made the decision, had your medical consultation for authorization, and have become an official LIV patient, you can now start planning the trip and preparation. Let your Journey Coordinators know if you have questions regarding hotels, accommodations, and travel.
The Medical Indications will be provided strictly by LIV Medical Team, please follow them carefully.
Step 5: Arrive to LIV in Puerto Vallarta
As soon as you arrive, please stop by the clinic, or let our team know so they can start planning your IVF, you will receive a progress sheet with the daily indications and steps to follow. Your personal fertility specialist will request initial testing to make sure the IVF Mexico can proceed; the indications be provided based on your test results.
Step 6: Performing the IVF – Ovarian Stimulation
One of our Fertility Specialist will oversee the daily indications for your procedure. You will receive a stimulation sheet along with a personalized package of medication previously prepared for your treatment.

On the day of the Egg Retrieval, the male partner or sperm donor will provide his sample for preparations.
Once all follicles have been punctured and Eggs retrieved, the sperm sample will be used to perform the ICSI Mexico fertilization.
General IVF plan:
Step 7: Return home and wait for the BETA results
Depending on the results of the BETA pregnancy test, you will be given indication on how to continue.
Positive BETA: Congratulation! You will be given a list of medication and indications for the first trimester of the pregnancy. Your OB-Gyn will take over from this point with the assistance of LIV Medical Team.
Negative BETA: You will be given indications on how to stop the medication and start preparing for the next step.
We believe in the power of faith and desire, the power of attraction, the power of free will and decision, so we will make sure that you are well informed on what the best plan of action is going to be. Allow us to show you the true power of science and show you how LIV Fertility Center has modernized the fertility field. We have created or perfected procedures and processes that will give you higher chances when before there were none. We have created roads to success where in the past these roads were dead ends, created lights at the end of the dark tunnels, so you can believe in your dream of motherhood once again. All we ask is that you give us the chance to make this, not only your dream, but ours also.  
Contact LIV: